This year an interesting situation developed: two electric transport exhibitions crossed by date – both take place on March 2-4. Where to go? Believe me, this question was asked not only by visitors, but also by participants. I visited two events and summed up what I saw.
Plug-In Ukraine 2018: professionals for professionals
The Plug-In Ukraine exhibition is held for the third time and always keeps the usual format: electric cars, hybrids, charging stations; plus thematically seminars and round tables. This gives its result – as well as last year, importers of cars of different brands gathered here, there is support from the Ministry of Infrastructure, here the exhibition was opened with representatives of VAAID. In a word, in the current conditions of the automotive market of Ukraine, the exhibition Plug-In Ukraine sets a fairly high level. As many well-known marketers of different automobile brands note, Plug-In Ukraine is in many ways a B2B-platform (Business to Business); but now this is exactly what is needed for the emerging market of electric vehicles in Ukraine – it is important to establish contacts and understand "who is who." Plus the level of participation of car importers (rather than individual car dealerships or service stations) automatically means the newest models of electric vehicles and hybrids, good stands, maximum useful information. Below is a brief overview of the participants.
One of the main "highlights" of the Plug-In Ukraine exhibition: the electromobile BMW i3s is an updated model, and even in the "heated" version (184 hp and 0-100 km / h for 6 , 9 s). Nearby there is a stand of Hyundai – here is presented Ioniq in the version of a full electric vehicle and hybrid. At the stand Renault – van Kangoo ZE which was recently updated and received an enlarged battery: we are waiting in Ukraine soon. Also presented is the electric car Renault ZOE : for the first time "official" ZOE was shown at the same exhibition a year ago and even the prices were announced, but the start of sales was delayed. Now the promising machines are already in the middle of spring, but only one version remained in the price list: Intense, 92 hp, 41 kWh, 916 thousand UAH. or about $ 33 thousand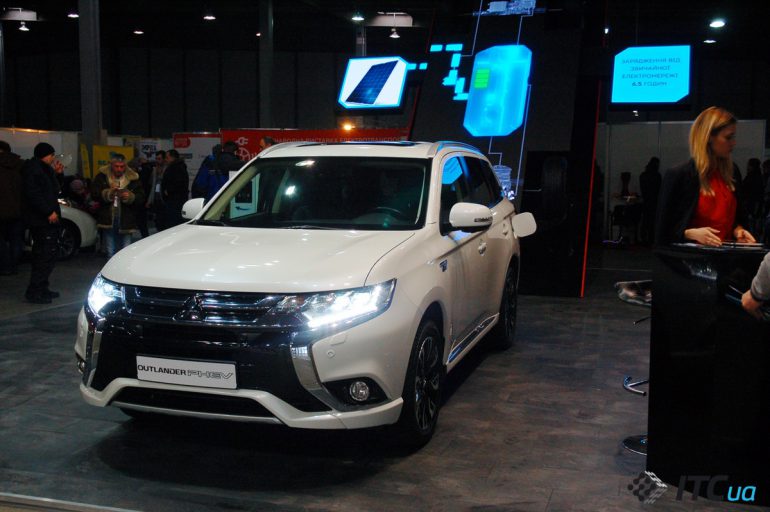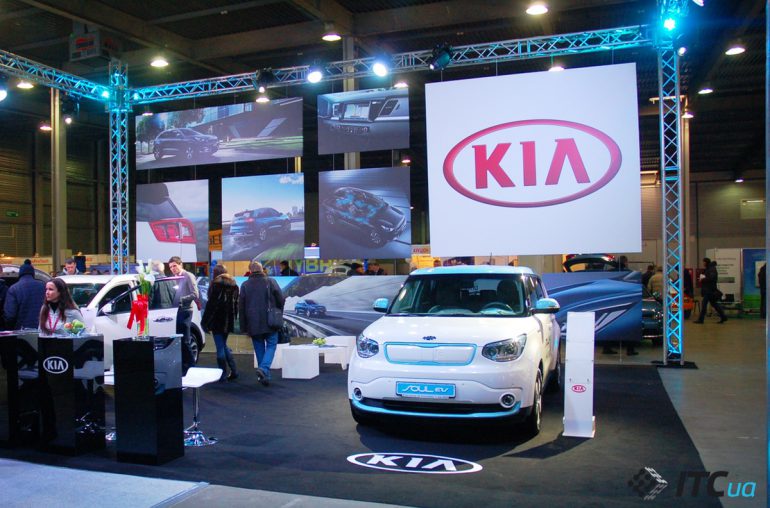 The second important coming from the "officers" is a rechargeable hybrid Mitsubishi Outlander PHEV . Just the other day the manufacturer announced updates for Outlander PHEV (more powerful than ICE and electric motors, more battery capacity). Representatives of Mitsubishi are aimed to start selling an already updated hybrid in the autumn of this year. Approximate price is indicated on the Ukrainian site of the company – 1.6 million UAH. (about $ 59 thousand), but the exact price will be known by the time the sales began. Among other eco-friends of crossovers it is worth noting KIA Niro and KIA Soul EV : the first started relatively well with sales in Ukraine, the second one remained an individual demonstration version. Intermediate solution – KIA Niro PHEV (rechargeable hybrid) – while it remains "overboard" the Ukrainian automotive market: it is more expensive than the usual hybrid Niro for noticeable for the buyer $ 6-6,5 thousand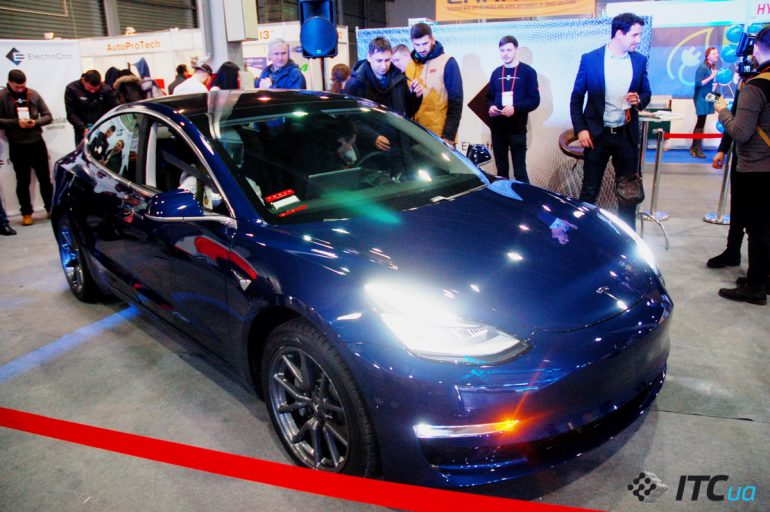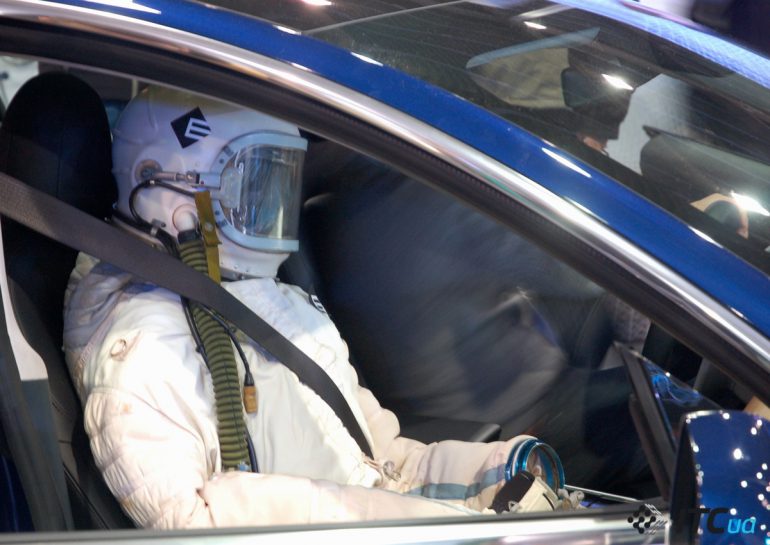 AND , of course, the main nail Plug-In Ukraine – the first electric car in Ukraine Tesla Model 3 ! To admit, I was partly mistaken in my forecasts on the account of terms: I was waiting for the "troika" not earlier than 2019. But partially it turned out right at the expense of the price: for this electric car they ask $ 79 thousand. Although it should be admitted, the electric car with the history: crossed the USA, having overcome 4.6 thousand km in 50 hours – that is 5 hours faster than the record of Tesla Model S in 2016 year. And, it must be admitted, the electric car with a good bundle: the Long Range version (a large battery and a power reserve of about 500 km), 18-inch wheels, a semi-autonomous driving system, a panoramic roof.
And another exhibition Plug-In Ukraine – (import and Ukrainian), tires (energy saving for hybrids / electric vehicles and conventional ones), piece exotic electric transport (electric bus, van Berlingo Electric city car Smart ED rare crossover Toyota RAV4 EV), and even blocks like "chip-tuning" for electric vehicles! On the street, as far as the weather permits, it is possible to conduct a small test drive of electric vehicles and hybrids.
EcoDrive Show: this is the "show"
Last year, the EcoDrive event was able to collect interesting premiere of electric cars and hybrids, -drives. Taking into account the holding of a number of bicycles and other transport, it turned out quite well. But this year it's not like that. Electric cars are frankly few, and they are presented by private companies-sellers. Yes, here you can still meet Nissan Leaf, electric Smart, BMW i3 – but this is a statement of the fact "electric cars are in Ukraine", without forming a common vector on the topic "where are electric cars in Ukraine."
On the other hand: EcoDrive Show – this is not an exhibition of only electric vehicles and hybrids; this is more of an exhibition and show of electric transport in general. There are many electric bicycles and gyro-paceters. If you add to this the exhibition of ordinary bicycles and equipment, stands with sports simulators, various competitions and "activities" – then you get an interesting entertaining show on the eco-theme.
At the EcoDrive Show, you will certainly find electric cars; frankly speaking, they are few. But there are electric and ordinary bicycles, gyroboards, equipment. Also you can see the SuperBox SuperSOCO, which we wrote about at the end of 2017 .
Total: Where to go?
The answer lies in another question: what do you want to see? If "all about everything", spend time, see the flying drones and gyroboard next, then sit in the Nissan Leaf – then the EcoDrive Show. But if you are seriously interested in electric vehicles, want to know the present and even look into the near future – then exclusively Plug-In Ukraine. Benefit, both events are open until the 4th of March and there is still time to visit any of them.