Hyundai today introduced the fully electric version of the compact crossover Kona Electric, which can be seen live already on Geneva Motor Show.
Hyundai Kona Electric will be produced in two versions. A more advanced modification will be equipped with a 150 kW (204 hp) engine and a 64 kWh battery that will allow a 470 km power reserve for a rather stiff WLTP cycle.
The modification will be cheaper to receive a 99 kW (135 hp) engine. s.) and a battery of 39.2 kWh with a total power reserve of 300 km (WLTP). Interestingly, both engines give the same torque of 395 Nm and a top speed of 167 km / h, but the acceleration time to 100 km / h in the first case is 7.6 seconds, and in the second – 9.3 seconds.
At The charge of the "long-range" version of the Hyundai Kona Electric with a 64 kWh battery will take 9 hours 40 minutes from a standard outlet or 54 minutes to a level of 80% of the capacity from a 100 kw dc charge. The version with a 39.2 kWh battery will replenish its stock in 6 hours 10 minutes from a normal outlet or for the same 54 minutes to 80% with a high-speed charging station.
The electric version of the Hyundai Kona received an updated design with a closed radiator grille , an aerodynamic front bumper, exclusive 17-inch alloy wheels, an updated LED lighting and two colors in seven variants.
The electric car has an advanced control system with a digital dashboard, a 7-inch touchscreen entertainment system with support for Apple CarPlay, Android Auto and wireless charging of smartphones.
Hyundai has not yet announced the date of market entry and the cost of the electric car Kona Electric, but according to some sources, this compact electric crossover will be on sale at the very end of the current or beginning of 2019 at a starting price of less than $ 40 thousand for a "long-range" version.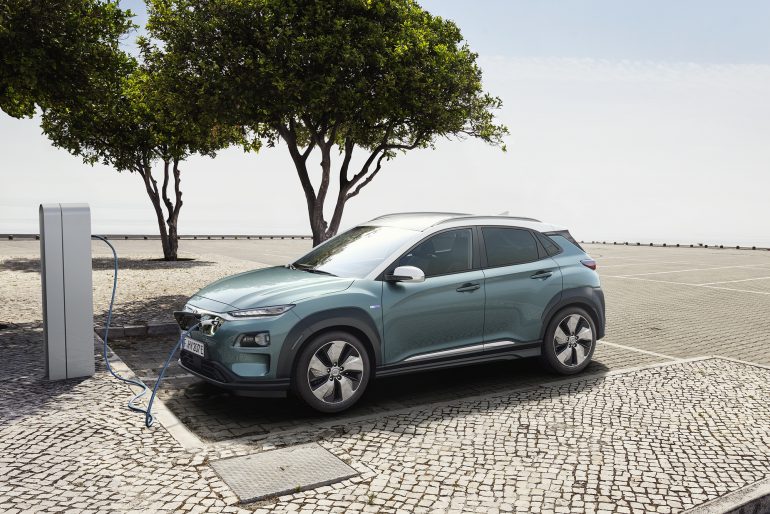 Source: Hyundai